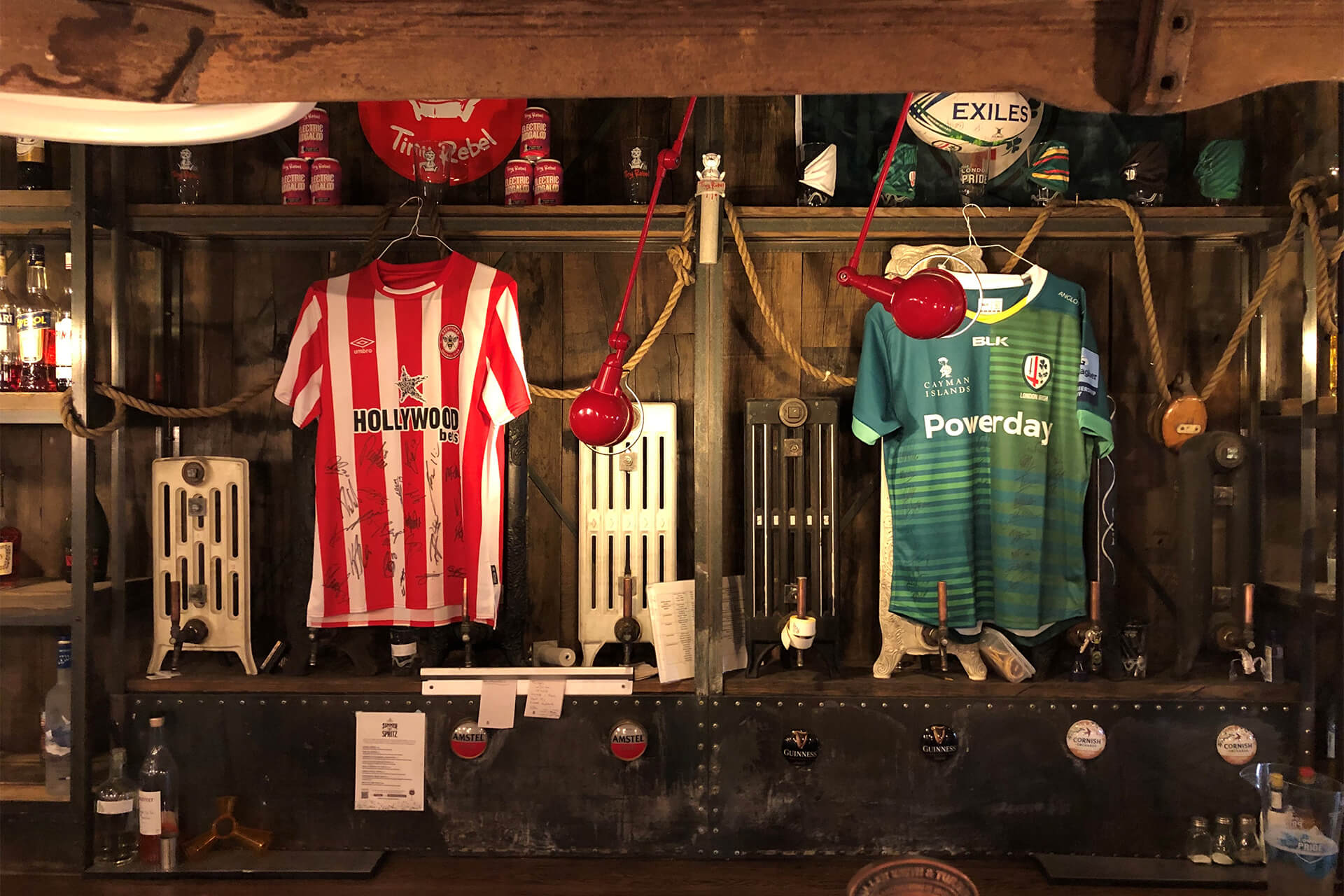 MAKE ONE OVER THE AIT YOUR NEW PRE-MATCH ROUTINE
Located just a stone's throw away, One Over The Ait is the perfect pub near Brentford Community Stadium to meet up for a couple of drinks and some food before the game. We can't wait to welcome fans of Brentford FC and London Irish RFC for the Premier League and Premiership seasons ahead after so long without full stadiums.
Perfectly nestled by the river along the Thames Path away from all the traffic, One Over The Ait has a large courtyard out the front and plenty of garden and terrace space for both food and drink. Inside the pub, the large bar has a wide selection of both cask and keg beers to choose from and an array of wine and spirits too.
One Over The Ait is one of the closest pubs to Brentford Community Stadium, a mere six minute walk up past Kew Bridge Station and left on Lionel Road. Get directions here.
ONE OVER THE AIT STADIUM CLUBHOUSE
Brentford FC were originally formed as a club on the very location that the One over the Ait sits. Originally a Boathouse for the local rowing club, on 16 October 1889, the rowing club members voted that a new club would play association football, be named "Brentford Football Club" and wear salmon, claret and light blue colours, the same as that of the rowing club.
Finally after a long wait, the mighty Bee's have reached the summit of the English Football Pyramid for the first time since the 1946-47 season and what a great time it's going to be for the new home of the Brentford FC.
So let's make One Over the Ait the new pre match routine for all Brentford fans, especially as it's the best pub for a pre or post game pint or bite to eat. Situated on the riverside, it's a lively place to eat and drink in the shadows of the new Brentford Community Stadium which is just a six minute walk from Brentford stadium. Join us for drinks in the bar (no reservations required) or book a table for your pre-match meal in our Clubhouse.
RUGBY – LONDON IRISH - THE EXILES!
It's in the name and in the newest stadium in the league; What a new home it's going to be for London Irish! The Exile Nation have returned to London and as One Over the Ait is the Official Pub Partner of London Irish, it's the best pub for London Irish home games. From pre or post-match drinks in the bar (no reservations required) to an A 'La carte meal in our Clubhouse we are the place to be.
Keep an eye out for events throughout the season as we plan to do activities involving the club and pub so click on our events page and come to support the team!